Wendy is a web series brought to you by Macy's and the producers of The Vampire Diaries. Meaghan Martin and Tyler Blackburn are a modern day Wendy and Peter Pan, or rather Pete Pan.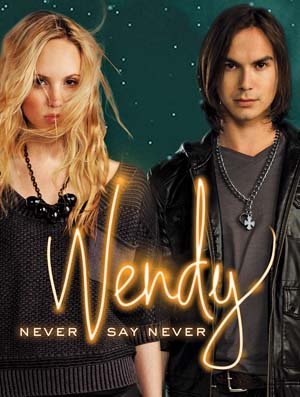 This series is a little darker than the Disney classic. Modern day Wendy is about to become a high school senior from what I can tell. Wendy has a boyfriend named Jackson (played by David Cade). Her best friend is a girl named Fawn (played by Rachel Dipillo).
Here are the bare bones of this story: Wendy meets Pete in a dream and finds him in an abandoned house. Tinkerbell is a painting on a wall in that abandoned house. Hook is a gardener that works with a hooked tool.  Wendy's brothers Michael and John went missing four years ago so Wendy got the letters M & J tattooed on her forearm.
I won't give you all the juicy details. I'll let you watch and see for yourself. Each episode leaves me wondering what's going to happen next. Haha, I guess that's the point.
For your added enjoyment, here is Tyler Blackburn singing 'Save Me'  from the series Wendy.
Related articles